Jurnal online UNINUS adalah unsur pelaksana akademik yang melaksanakan sebagian tugas pokok dan fungsi lembaga pada bidang Penelitian dan Pengabdian Kepada Masyarakat
A B C D E F G H I J K L M N O P Q R S T U V W X Y Z All
Nusantara - Journal of Information and Library Studies
Nusantara Journal Of Information and Library Studies (N-JILS) is a refereed Journal of Library and Information Science of Universitas Islam Nusantara.
The coverage is focused but not limited to, the main areas are library management, information literacy, bibliometrics, almetrics, information science, library promotions, archival management, library organization, and related subject.
View Journal | Current Issue | Register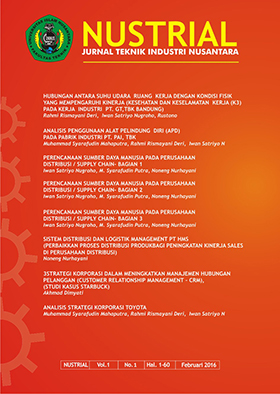 NUSTRIAL
NUSTRIAL adalah
Jurnal Teknik Industri Fakultas Teknik Universitas Islam Nusantara yang diterbitkan dua kali dalam setahun, pada bulan Juni dan Desember, oleh Fakultas Teknik. Menerbitkan karya tulis ilmiah dengan scope dan focusnya pada bidang keilmuan teknik.
View Journal | Current Issue | Register
1 - 2 of 2 Items