Jurnal online UNINUS adalah unsur pelaksana akademik yang melaksanakan sebagian tugas pokok dan fungsi lembaga pada bidang Penelitian dan Pengabdian Kepada Masyarakat
A B C D E F G H I J K L M N O P Q R S T U V W X Y Z All
ABDITEK NUSANTARA
ABDITEK NUSANTARA 
adalah jurnal yang menerbitkan artikel-artikel penelitian sebagai hasil pengabdian masyarakat 

dengan Focus dan Scope pada bidang Pengabdian, Teknik, Informatika, Elektro, Industri, Sistem Informasi, dan Teknologi.
View Journal | Current Issue | Register
Al Mujadalah
Al-Balagh: Rangkai Kata & Makna merupakan jurnal yang terbit dua kali dalam satu tahun. Memuat hasil penelitian dan kajian-kajian kritis atas segela bentuk dakwah dan pemikiran yang mencakup issue keagamaan, kebudayaan, politik, filsafat, dan semua yang relevan dengan dunia komunikasi dan penyiaran Islam.
View Journal | Current Issue | Register
An-Nida: Jurnal Pendidikan Islam
Journal An Nida focus on the issues that are related in Islamic Education; including Research Methodology, Education Science, Islamic Education Science, Educational Psychology, Learning Psychology, Educational Philosophy, Islamic Educational Philosophy, Lesson Plan, Lesson Design, Lesson Media, Educational Facilities, Islamic Science, Tafsir Tarbawi, Hadist Tarbawi, Lesson Organization, Objectives and Evaluations of Educational Curriculum.
An-Nida: Journal of Islamic Education published the first edition: Vol. 1, No. 1, 2012, in January and July with print media. Since Vol. 11 No. 1, 2022 journal published online.
The review process in this journal uses double-blind peer-review, which means that the identity of the reviewer and author is hidden from the reviewer, and vice versa.
View Journal | Current Issue | Register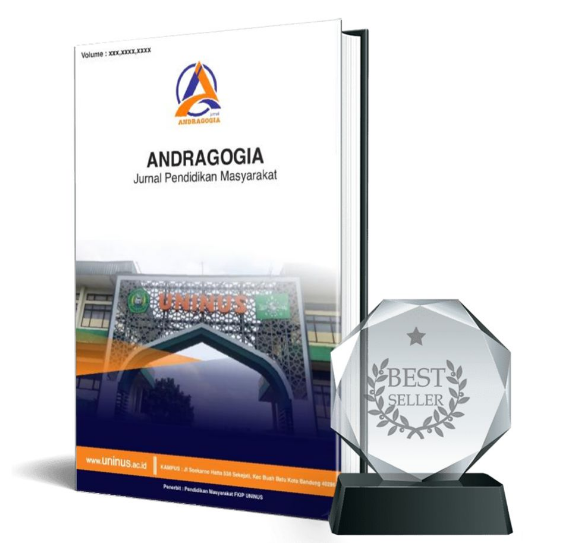 ANDRAGOGIA
Jurnal ANDRAGOGIA terindex nasional dan internasional berada dibawah naungan Pendidikan Masyarakat Fakultas Keguruan dan Ilmu Pendidikan Universitas Islam Nusantara, yang memfasilitasi segala bentuk karya ilmiyah di dalam ruang lingkup pendidikan masyarakat, Jurnal Andragogia terbit berkala dalam 1 tahun 2 kali (Mei - Nopember)
| | |
| --- | --- |
| Journal title | ANDRAGOGIA (Jurnal Pendidikan Masyarakat) |
| Abbreviation | ANDRAGOGIA |
| DOI Prefix | 10.30999/  |
| Frequency | 2 kali terbit dalam satu tahun (Mei dan Nopember) |
| Print ISSN | .........-......... |
| Online ISSN | .........-......... |
| Editor-in-chief | King King Mutaqin |
| Managing Editor | Saktika Rohmah Fajawarwati |
| Publisher | Fakultas Keguruan dan Ilmu Pendidikan |
| Citation Analysis | Google Scholar, ROAD  |
View Journal | Current Issue | Register
1 - 4 of 4 Items