Jurnal online UNINUS adalah unsur pelaksana akademik yang melaksanakan sebagian tugas pokok dan fungsi lembaga pada bidang Penelitian dan Pengabdian Kepada Masyarakat
A B C D E F G H I J K L M N O P Q R S T U V W X Y Z All
JOURNAL OF FACULTY OF ENGINEERING
View Journal | Current Issue | Register
Journal of National Awareness Civil Society
Dissemination of research results basically can not be separated from the overall research activities and can be used as an indicator of the quality of research through publication in scientific periodical quality.
Journal of National Awareness Civil Society is a peer-reviewed journal that
publishes scientific articles from scholarly study of social and educational. These articles include original scientific research results (top priority), the article reviews recent scientific nature, or commentary or criticism of a phenomena that exist.

Journal of National Awareness Civil Society published by the Pancasila and Citizenship Education Study (PPKn), the Faculty of Education, University of Islam Nusantara
Bandung. The purpose of this publication Scientific Journal of National Awareness Civil Society not be separated from the creation of a society of civil purpose, namely a civilized society, uphold human values, which are advanced in the mastery of science and technology. Journal of National Awareness Civil Society published articles from various academics and researchers both nationally
and internationally, with a periodization of publishing regularly twice each year. Journal of National Awareness Civil Society are expected to participate in the overall participation
of scientific development.
To view the contents of the journal please click ARCHIVES
To proposes the publication of articles please clik REGISTER
To download the manual module registration article , please click STYLE BOOK
View Journal | Current Issue | Register
Journal of Research in Teaching and Learning Innovation
The Journal of Research in Innovative Teaching & Learning is an academic, peer-reviewed, open-access journal focusing and scope on innovations in teaching and learning that inform organizational practices and educational policies.
View Journal | Current Issue | Register
Jurnal Akuntansi, Auditing dan Keuangan Syariah
JURNAL AKUNTANSI, AUDITING DAN KEUANGAN SYARIAH adalah jurnal
yang diterbitkan oleh Prodi Akuntansi, Fakultas Ekonomi, Universitas Islam Nusantara. Jurnal ini diterbitkan dua kali secara berkala pada September dan Maret. Lingkup artikel yang diterbitkan di JAAKES terdiri dari berbagai topik di bidang Akuntansi dan Keuangan
View Journal | Current Issue | Register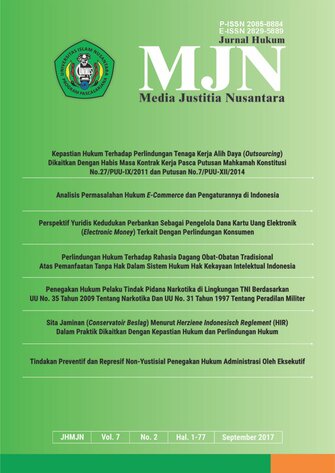 JURNAL HUKUM MEDIA JUSTITIA NUSANTARA (MJN)
Media Justitia Nusantara (MJN) is a journal that intends to publish most quality research papers in the fields of law or criminology and social justice studies. The journal is keen to present relative overview of law, system-wide trends and problems on law, crime and justice throughout the world. Journal provides a medium for social scientists to report research findings with respect to crime and justice through innovative and advanced methodologies.

The Journal encourages in submission of articles, research notes, and commentaries and also invites papers based on empirical research, theoretical analysis and debate, and policy analysis and critique that centre on crime and broadly defined justice-related topics in an international perspective.
P-ISSN  : 2085 - 8884
E-ISSN  : 2829 - 5889
DOI       : https//doi.org/10.30999
URL       : http://ojs.uninus.ac.id/index.php/MJN
Publication Period : February and September

View Journal | Current Issue | Register
JURNAL PEMULIAAN HUKUM
View Journal | Current Issue | Register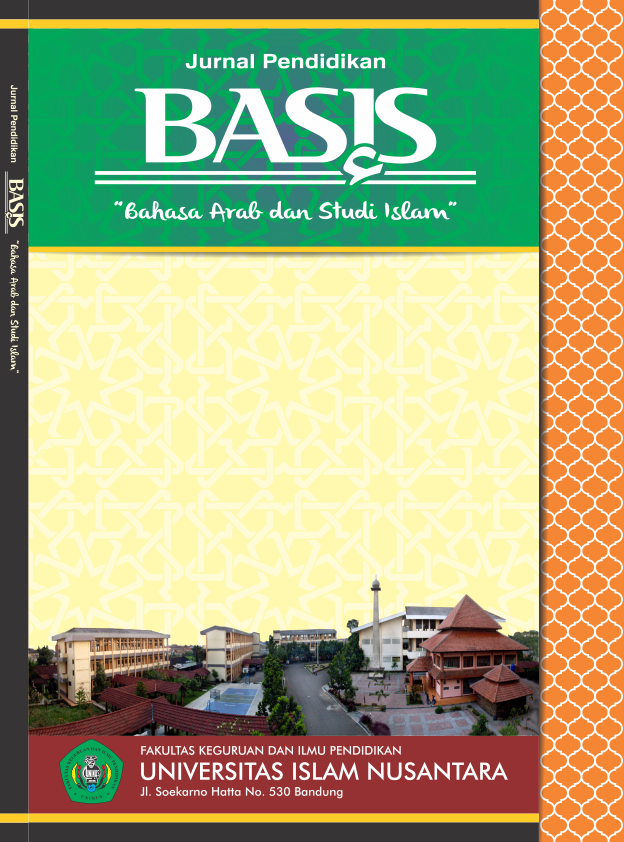 Jurnal Pendidikan BASIS
Jurnal Pendidikan BASIS (Bahasa Arab dan Studi Keislaman) adalah jurnal yang mempublikasikan hasil penelitian, kajian para peneliti dengan disiplin ilmu; Pendidikan Islam, Sastra dan Pendidikan Bahasa Arab. yang saat  memiliki p-ISSN 2549-8096.
Penerbitan jurnal dilakukan 2 kali dalam setahunnya yaitu di bulan  Maret dan September.
View Journal | Current Issue | Register
JURNAL PENGABDIAN KEPADA MASYARAKAT
Jurnal Pengabdian Kepada Masyarakat (JPKM) Universitas Islam Nusantara (UNINUS) menerbitkan artikel-artikel penelitian, hasil dari pengabdian pada masyarakat yang telah memiliki nomor P-ISSN
2088-6977
dan E-ISSN
2548-1487
. Memiliki nomor DOI (Data Object Identifier) 10.30999. Focus dan Scope pada bidang Pendidikan, Hukum, Ekonomi, Teknik, Pertanian, Komunikasi, Kesehatan. Terbit setiap bulan Juli dan Desember. Terindeks SINTA 5 
https://sinta.kemdikbud.go.id/journals/profile/4146
View Journal | Current Issue | Register
JURNAL RADAR, ELEKTRONIKAN PERTAHANAN, ELEKTROMEDIK DAN TELEKOMUNIKASI (RETHANELMU)
View Journal | Current Issue | Register
JURNAL SHIBYAN
Jurnal Pendidikan Guru Madrasah Ibtidaiyah diterbitkan dua kali dalam setahun pada bulan Juni dan bulan Desember oleh Program Studi Pendidikan Guru Madrasah Ibtidaiyah Fakultas Agama Islam Universitas Islam Nusantara Bandung. Menerbitkan artikel hasil penelitian atau pengabdian dengan fokus dan skope; Pengembangan Kurikulum Pendidikan dasar (MI/SD), Pendidikan Matematik, Sains, Bahasa Inggris, Bahasa Indonesia untuk Pendidikan Dasar (MI/SD), Media dan Teknologi Pendidikan Dasar(MI/SD), Strategi Pembelajaran Dasar (MI/SD), Kompetensi Guru di Madrasah Ibtidaiyah/Sekolah Dasar, Evaluasi pendidikan dasar (MI/SD).
View Journal | Current Issue | Register
Jurnal Validitas Hukum
Jurnal Validitas Hukum is a double-blind peer-reviewed published by the Faculty of Law, Universitas Islam Nusantara (UNINUS), Bandung, Indonesia. This journal publishes research articles, conceptual articles, and book reviews with legal studies. The article is in the Journal of Legal Breeding studies, thought development, and research on civil law, Focus and Scope Review). This journal article is published twice a year in June and December. Authors are invited to submit manuscripts that fall within the scope of the Jurnal Validitas Hukum.
Please read the information on the peer-review process. The articles published in Jurnal Validitas Hukum are going through a double-blind peer-review process. Hence, the decision on whether the scientific article is accepted or not, will be the Editorial Board's right based on the peer reviewer's recommendation. Please read and understand the author's guidelines for the preparation manuscript. The author who submits a manuscript to the editors should comply with the author's guidelines and template. If the submitted manuscript does not comply with the guidelines or using a different format, it will be rejected by the editorial team before being reviewed. The editorial team will only accept a manuscript that meets the specified formatting requirements.
Journal Secretariat: Faculty of Law, Nusantara Islamic University (UNINUS) Bandung, Indonesia, Jl. Soekarno Hatta No. 530, Sekejati, Kec. Buahbatu, Bandung City, West Java 40286, Indonesia.
_________________________________________________________________
View Journal | Current Issue | Register
1 - 11 of 11 Items